Thousands of Extinction Rebellion protesters have descended on Parliament Square in London leading to at least 90 arrests, as the group kicked off 10 days of civil disobedience to demand government action on the climate crisis.
Four XR groups blocked roads as they marched across central London waving brightly coloured flags and banners demanding MPs back what they have described as the "climate and ecological emergency bill".
A number of protesters sat in the middle of an intersection next to Parliament Square blocking traffic, as dozens of police officers swooped in to carry them away to vans parked nearby.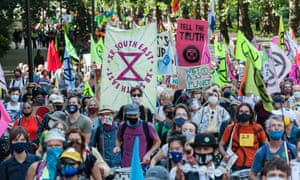 The Metropolitan police issued restrictions under section 14 of the Public Order Act to limit the protest to the off-road area of Parliament Square gardens.
The restrictions also stipulated that no boats, vehicles, trailers or other structures were allowed at the procession at any point on its route on Tuesday, and said the protest must finish by 7pm.
Commander Jane Connors of the Met said: "The reason we have implemented these conditions is that we know these protests may result in serious disruption to local businesses, commuters and our communities and residents, which I will not tolerate."
Similar protests took place in Cardiff, where protesters hung a large banner from the office of the secretary of state of Wales, and in Manchester, where demonstrators blocked roads as they congregated in St Peter's Square with giant puppets.
In contrast to the group's rebellion in October 2019, when some members caused controversy by targeting a rush hour DLR service, organisers said the focus this time is intended to be institutions of power, with disruption aimed at the heart of Westminster and timed to start on the day MPs returned to parliament from summer recess.
The Green MP Caroline Lucas addressed the crowd in Parliament Square to announce that she would table the climate and ecological emergency bill: "Thank you for showing more political leadership than that place over there," she said, gesturing to the House of Commons.
The protest is the first mass gathering of XR protesters since a rebellion planned for earlier this year was cancelled because of the pandemic, and the group has been warned it could face a GBP10,000 fine for organising a gathering of more than 30 people under coronavirus legislation.
Many protesters said the pandemic had made them more determined to protest.
"By living the way we live, we are making ourselves more vulnerable to these pandemics and that's why [the climate crisis] should never have been off the agenda, it should be part and parcel of the Covid debate," said 50-year-old Ava, from Lewes in East Sussex.
Along with a specific focus on the proposed bill and calls for a national citizens' assembly to tackle the crisis, some protesters took specific aim at the HS2 high-speed rail project.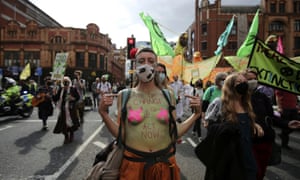 A makeshift "Boris the Bank Engine" featuring cardboard carriages labelled "Lies" and "Communities Devastated" chugged from Buckingham Palace towards parliament, while protesters chanted "Stop HS2" and people dressed as ticket inspectors handed out flyers
"We just hope to extend the message to people who are not aware of HS2 because it's taking place largely outside of London so many people don't feel the loss because they can't see it," said Simon Morgan, an activist.
The vast majority of those taking part were wearing masks, and XR said a digital rebellion was taking place online for those unable to attend the demonstrations in person.
"If it's OK to get in a metal tin and fly up in the sky breathing in other people's recycled air for four hours, then it seems ridiculous to me that you would persecute people who are trying to save the long-term health of the planet," said Kerry Evans, 45, who had travelled from Winchester for the protest.
"To me, it's madness not to be here. It's madness not to be trying to force our government into action. I couldn't not be part of this and look my children in the eye when I kiss them goodnight."