Activists occupy second London tunnel in protest at tree-felling plans
A second tunnel or tunnel network has been occupied by tree protectors in central London in protest at plans by Islington council to fell a range of six mature trees to make way for new housing.
Activists from a group called Save The Trees are occupying the site, which is close to a busy roundabout in a polluted part of London.
It is not known how many people are currently in the tunnel but activists say it is well stocked with food, water, bedding, battery packs and other essentials.
Islington council says 25 new council homes available at social rent will be built on the site along with 14 private flats. Originally, Extinction Rebellion activists occupied the site but left after negotiating a deal with the council to plant more trees; the council says it is planting 63 new trees around the borough to make up for those which have been lost.
In a statement on Tuesday, activists from Save The Trees said: "Early this morning, authorities were reeling to discover they'd failed to learn their lesson from The Great Escape – that there's always more than one tunnel!"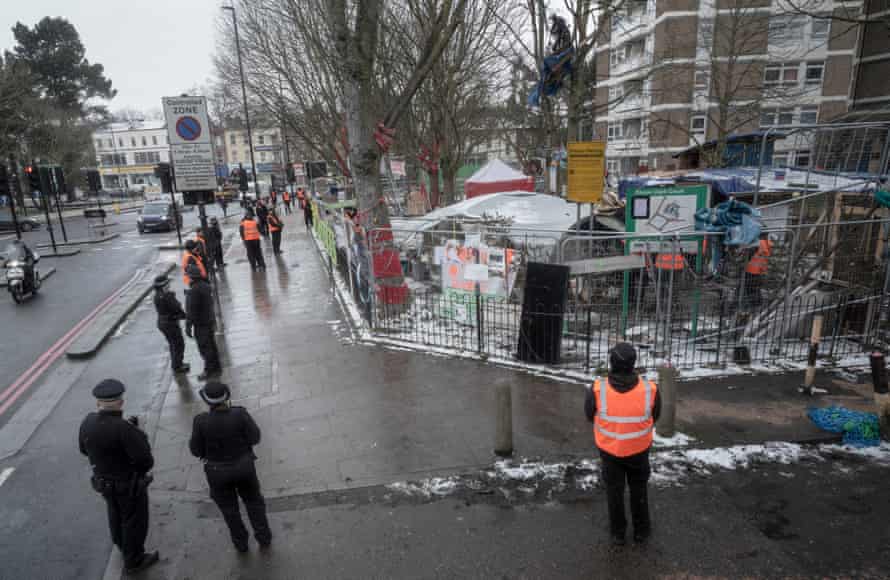 The tunnel is at a site referred to by the activists as the Highbury Corner Tree Protection Camp and was apparently built by the same crew and shares many of the same features as the tunnel at the Euston Square Gardens HS2 protection camp. Bailiffs discovered the tunnel when they tried to evict the camp at 5am on Tuesday at the "little forest" of seven mature trees at Dixon Clark Court on Highbury Corner, according to the activists. As at Euston, the tunnel entrance was concealed within a pallet stronghold, fortified with earth from the tunnel itself.
Activists have been living on the site in pallet shacks, tents and treehouses for almost four months to try to save the trees, which include a Norwegian maple, sycamores and chestnuts.
Local children have given the trees names such as Val, Ana, Ned and Smith, which have been affixed to the bark.
Vania, an activist from Save The Trees, said: "I'm an Islington resident. We really don't have much green space in our borough. A tunnel is one of our best plans for resistance to raise awareness about the destruction of the trees."
She said work on the tunnel had been carried out over the last three months.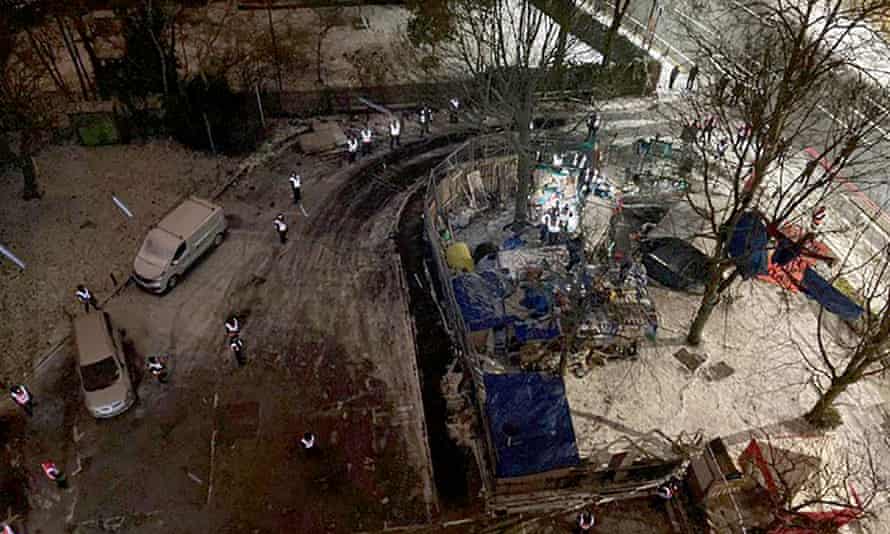 The tree protectors say that rather than destroying mature trees in central London councils and governments should be doing more to renovate empty homes. According to data released by the Ministry of Housing, Communities and Local Government in November 2020 there was a rise in empty homes across England of 42,000 to 268,385, the biggest rise since current records began. However, in Islington there was a reduction of 13% in the number of empty homes, from 750 to 649.
Diarmaid Ward, the executive member for housing and development at Islington council, said: "Islington council is committed to delivering decent and genuinely affordable homes for all, and the project at Dixon Clark Court will result in a net gain of 25 desperately needed new council homes for local families currently living in overcrowded and unsuitable conditions.
"At the same time the project will deliver 63 new trees, an extra 100 sq metres of communal garden space for residents, and a number of plantings and landscaping improvements designed to improve biodiversity and address air quality issues. The council has done everything we can to avoid taking legal and enforcement action, and had reached an agreement with XR, the initial group of protesters, that they would leave the site voluntarily and the council would use the money we would have spent on legal fees on even more trees – in addition to the 63 we had already planned to replace the six being felled.
"We have given protesters who chose to remain every opportunity to comply with the directions of the court, including additional time. It's truly disheartening that people who claim to care about both trees and homes have forced an outcome resulting in fewer trees for the borough, significant costs, and further delays to building much-need council homes for local families in desperate need."
The council says the new scheme includes important landscape improvements such as a species-rich hedgerow and plantings of indigenous shrubs, wildflowers and grasses, which will help promote local wildlife as well as combating the effects of air pollutants. A spokesperson said there would also be a new central garden space, play area and office for the estate's tenant management organisation.