Stranded whale in Thames put down after suffering injuries
As crowds gathered along the banks of the Thames around Teddington weir to catch a glimpse of the little whale that had lost its way upriver, the mood gradually became tinged with sadness at the realisation that the baby minke would probably never make it back out to sea.
The calf had first got stranded on Richmond lock's boat rollers on Sunday evening. It was finally freed by rescue teams around 1am but wriggled free from the inflatable rescue raft and went missing, before being spotted again in Teddington late on Monday morning.
It later got stuck in shallow waters for a second time at Teddington weir, where it became entangled in vines and "very distressed", according to the British Divers Marine Life Rescue service (BDMLR). As its condition continued to deteriorate, it was clear that the injured whale, which had become completely stationary in the water, could not be saved. It was put down by vets on Monday evening.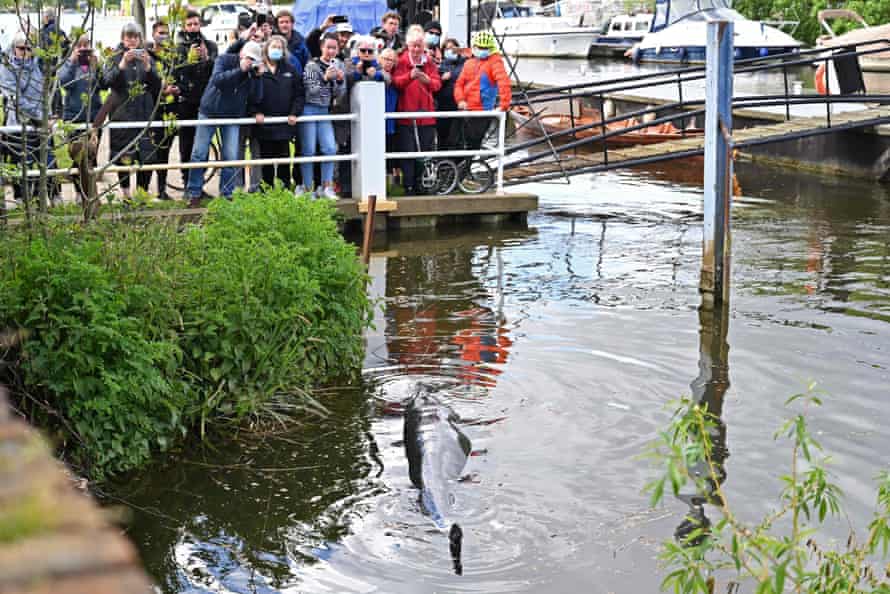 Members of the public had braved wind and rain to cram along the bridge and riverbank throughout the afternoon, hoping to spot its grey dorsal fin poking through the dark swirling waters. Two helicopters flew overhead while a crew from the Royal National Lifeboat Institute (RNLI) monitored the situation. One ambitious onlooker even ventured out in a kayak hoping for a closer look at the small whale, measuring around four metres in length.