Greenpeace Euro 2020 parachutist lucky not to be shot down, says politician
A Greenpeace protester who parachuted into the stadium before Germany's Euro 2020 match against France in Munich was lucky not to have been shot down by anti-terror marksmen enforcing a no-fly zone, a state minister has said.
Two people were injured when the activist lost control of his powered paraglider, which had a motor attached to his back, and hit overhead camera wires attached to the stadium roof. Fans ducked as he careered towards the spectator area, narrowly missing the stands and demolishing technical equipment before crashing in front of the German penalty area.
Debris fell on to the field and main grandstand, just missing the French manager, Didier Deschamps. Two German players were first to approach the protester, before he was led away by security services.
"Due to the Greenpeace banner the marksmen did not intervene," said Joachim Herrmann, Bavaria's interior minister for the state. "But if the police had come to a different conclusion that they might have been dealing with a terrorist attack, the aviator may well have paid with his life."
Bavaria's leader, Markus Soder, said the incident would be properly investigated. "This was no trivial offence," Soder told Bavarian radio. "It will be dealt with very thoroughly. This was a clear violation."
Munich police said on Wednesday they were investigating various potential violations of the criminal code and aviation act. "The pilot injured two men during the landing approach. The injured were given medical care by the emergency services and taken to hospitals for further care," police said in a statement.
The police said none of the injuries were serious and the pilot, a 38-year-old man with an address in the south-west state of Baden Wurttemberg, was unharmed. "There is no understanding whatsoever for such irresponsible actions in which a considerable risk to human life is accepted," the police said.
Munich's deputy mayor, Katrin Habenschaden, who was in the stadium and witnessed the incident closeup, said: "I was sitting near the press tribune. The paraglider whizzed past me about 30 metres away," she told the tabloid Bild.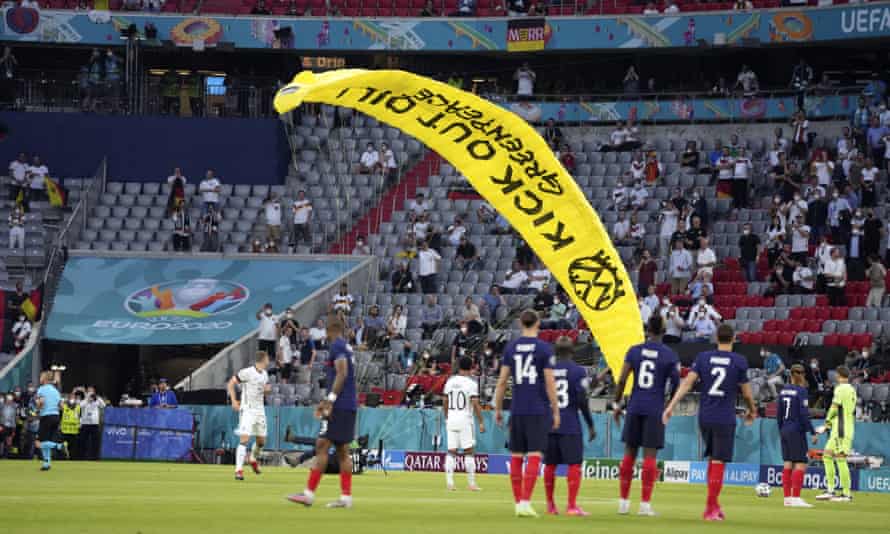 A Green party member, she nonetheless condemned Greenpeace's actions. "It was life-threatening and it was only pure luck that nothing more happened. Greenpeace has done great damage to its reputation."
Greenpeace has apologised for the stunt, which it admitted had gone wrong. It said the protest action was aimed at urging the carmaker Volkswagen, a Euro 2020 sponsor, to stop selling diesel and petrol cars.