Extinction Rebellion protesters blocked Tower Bridge with a van and caravan in the latest step of the group's continuing demonstrations.
Activists from the group, also known as XR, lay on the ground near the London landmark to protest against government investment in fossil fuels as part of their fifth wave of mass protests on environmental issues.
"XR are here demanding an immediate halt to all new investments in fossil fuels. It's the obvious first step to stop making the crisis worse," they said.
Demonstrators were seen at the end of the bridge in Southwark wearing aprons emblazoned with "Tell the Truth" and with teapots bearing the word "Deniabilitea".
Activists also staged an overnight protest at the Science Museum in London, gluing themselves to railings inside the museum over its partnership with the oil company Shell in an exhibition about greenhouse gases called Our Future Planet.
The activists said: "XR have closed Tower Bridge with a caravan and a large group are sitting blocking the junction at the north side of the bridge.
"The actions mark the start of a week-long intervention on the City of London. The City is a root cause of the climate and ecological emergency. If it were a country, it would be the ninth biggest carbon emitter on the planet.
"Not one of the top 10 funders in the City has made a serious plan to exit fossil fuels, despite having pledged to go net-zero by 2050."
An XR spokesperson said they intended to stay for as long as they could, adding that they believed similar demonstrations in the past had remained active for five to 10 hours.
The Metropolitan police said: "Officers were on scene almost immediately. We are working with City police to get traffic moving again. Activists are also laying on the junction north of Tower Bridge, this is causing further disruption."
Shortly after the demonstration began, officers blocked off the road and prevented pedestrians and traffic from approaching the protest site. Traffic was building up on Monday afternoon as people sought another place to cross the River Thames.
The Met said 11 people were arrested on Monday as as a result of the Tower Bridge protest. It means more than 300 arrests have been made during the first week of Extinction Rebellion's fifth wave of mass protests in London.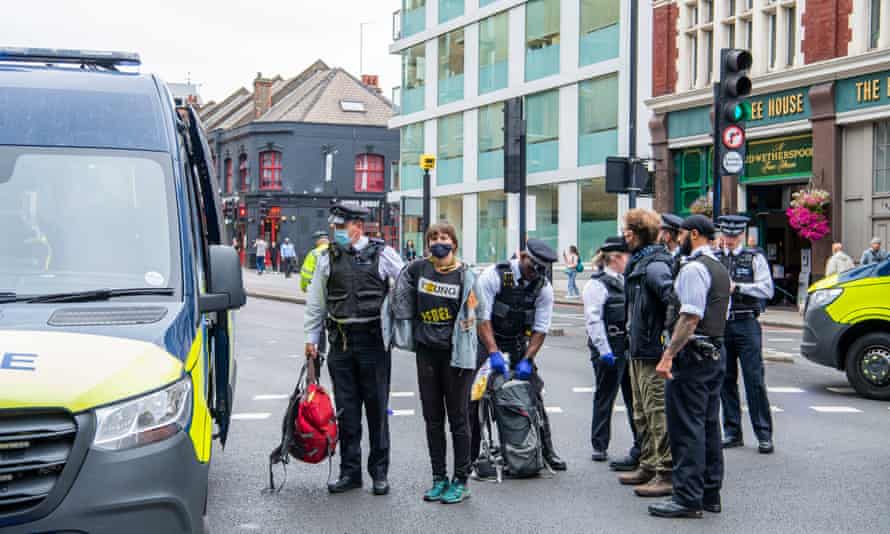 Protesters were seen being removed by police prior to the blocking of the bridge, with a large police presence at the scene of the occupation.
Extinction Rebellion's latest action is into its second week, having begun on Monday 23 August.
Police said they had prevented another demonstration from proceeding as they forcibly stopped activists from erecting a structure on a London road on Monday.
"We predicted where activists might strike, taking immediate action. Throughout the past seven days, we've responded to several disruptive protests in London," officers said.