Dozens of activists from Insulate Britain have defied a high court injunction by staging their sixth roadblock on or near the M25 since 13 September and warned of "wave after wave of protests" to come.
Some of the 53 protesters glued themselves to the tarmac and barriers on a slip road to the M25 at junction 14 near Heathrow at the height of the Monday morning rush-hour.
The demonstration, part of a campaign by Insulate Britain to tackle fuel poverty and reduce the UK's carbon dioxide emissions, lasted at least 90 minutes before the protesters were taken away by police.
The group, an offshoot of Extinction Rebellion, vowed that the campaign would continue until the government took action to insulate homes.
A Metropolitan police spokesperson said 53 arrests had been made and lanes reopened at about 11.10am.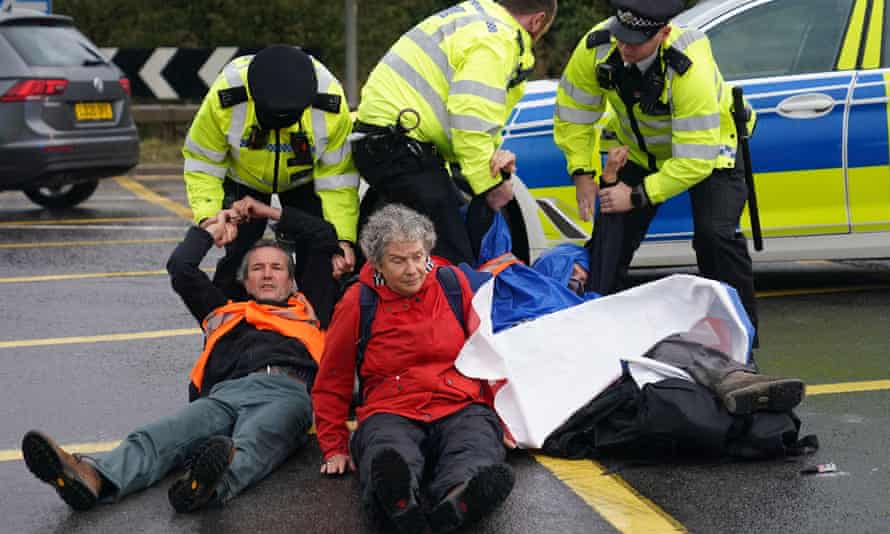 Last week, National Highways were granted a high court injunction aimed at preventing people obstructing the M25 and A20 following demonstrations earlier this month. The home secretary, Priti Patel, has said those who breach the injunction will face imprisonment and unlimited fines.
However, activists who organised and participated in Monday's roadblock said the disruptive protests would continue.
Speaking to Sky News, Craig Scudders, a spokesman for the group said: "We were told that if we went back on the M25 that we would be arrested, that we would face losing our savings, having our homes taken away and possibly spending years in prison. But we are on the right side of this argument.
He added: "Priti Patel, I have a message for you – that we are going nowhere. There is going to be wave after wave of wave of protesters willing to spend time in prison and possibly lose their savings because this is an issue that is not going away."
Dr Diana Warner, 62, a retired GP from Bristol, who took part in Monday's roadblock, said she was "determined to do everything" to force change.
She said: "This is the fifth time I've been here trying to block a motorway because the only way to get the government to listen is to disrupt things. I'm really sorry but I'm determined to do everything I can to make us safe and change society …… we have to try."
Victoria Lindsell, 66, a volunteer language teacher, said: "We all understand the frustrations, but this is the only way to make the government listen. We're incredibly sorry, we've all been stuck in traffic jams, but to be inactive is a crime.
"I'm wet through and I'm cold, it's not my choice but I cannot have the responsibility and not do anything about it."
Insulate Britain also wrote a letter to Patel saying more protests were to come.
It said: "You can throw as many injunctions at us as you like, but we are going nowhere. You can raid our savings. You can confiscate our property. You can deny us our liberty and put us behind bars.
"But shooting the messenger can never destroy the message: that this country is going to hell unless you take emergency action to stop putting carbon into the air."
The protest infuriated the drivers' lobby. The London branch of the Alliance of British Drivers demanded action against what it called a "criminal conspiracy to repeatedly block roads".
Howard Cox, the head of FairFuelUK, tweeted that the the activists were "scum" who must be imprisoned and have assets stripped to pay for the disruption they caused.
A spokeswoman for Insulate Britain denied activists were trying to worsen the petrol crisis: "This campaign is happening against a backdrop of a fuel crisis. I don't know that we are trying to exploit it. We set out three weeks ago and said we would continue until the government take responsibility for insulating homes. That continues to be the case."
She added: "From what we are seeing the actual disruption is very minor.
"We are more scared of the destruction of country than we are of an injunction, so people are prepared to face the consequences and continue with the campaign despite the injunction being in place."